Between rugged mountains and stunning coves of the Gulf of Orosei
In the heart of the Mediterranean sea, this island is a condensed mixture of wilderness, stunning walks, beautiful beaches, good food and old history. This tour will take you around the east coast of Sardinia, surrounded by steep limestone cliffs, deserted coves, stunning turquoise waters and secluded beaches. We will discover the region of "Supramonte" which includes a large area bound by the towns of Oliena, Dorgali and Baunei. It forms a chain of peaks alternating with deep limestone valleys, forests and dry lands. It is one of the most enchanting and isolated places in Sardinia and, at the same time, one of the most beloved by hikers looking for the most authentic and least exploited areas. We will also explore the prehistoric heritage of Sardinia, the famous "Nuraghe", always, needless to say, enjoying the flavours of the rich local cuisine.
Highlights:
- The Gulf of Orosei, wild paradise for hikers
- The Sardinian sea, so turquoise that it seems painted
- Peace and authenticity of a region not yet exploited

Daily itinerary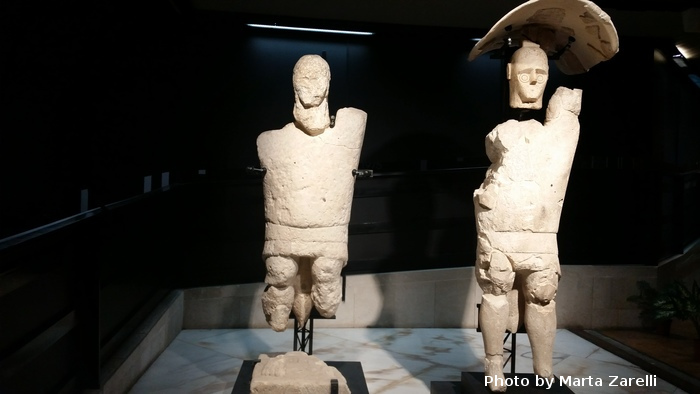 Day 1: Arrival at Cagliari

Arrival at the airport of Cagliari. Meeting with your guide and transfer to hotel in the city centre of Cagliari. Check in at your hotel, presentation of the program by your guide. Dinner and overnight stay at hotel*** in Cagliari. Meals (-/-/D)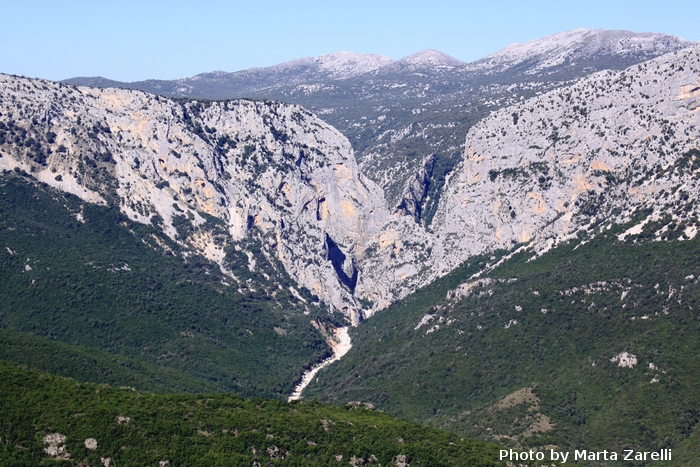 Day 2:
Gorges of Gorropu (5h30 walking, +600m -1200m)
Transfer from Dorgali (30 min. ride). Start of our walk towards the Flumineddu valley, in the heart of the Supramonte mountain, inside the National Park of Gennargentu. We will discover the Gorroppu Gorge, with a depth of 450 metres and a width of 5 metres is one of the deepest and narrowest gorges in Europe. You will be surprised by the amount of specific local flora and fauna endemism existing in such an extreme environment. We will continue our walk towards the Flumineddu river, heading to Dorgali. Transfer to Dorgali town, check in at our hotel, dinner and overnight stay at hotel *** in Dorgali. Meals (B/L/D)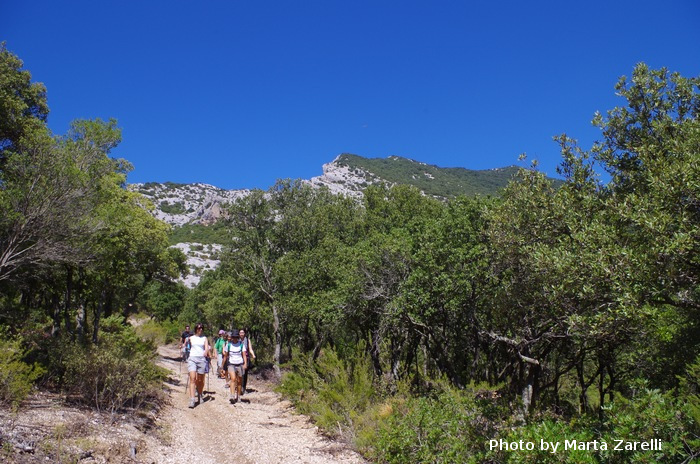 Day 3:
Tiscali (5h walking, +440m -480m)

Today's walk will take us to discover a secret historic city, hidden in a collapsed cave on Supramonte mountains. Transfer from Dorgali and walk on a path carved into the bare rock. Ascent to the most important archaeological site in this region. In a very unusual position on the summit of Mount Tiscali, you can visit the remains of a prehistoric village Nuraghe (founded by the first Sardinia people, dating between 1500 and 500 BC). Continuation of our hike until the Lanaittu Valley. At the end of our trip transfer to the site of Serra Orrius, Nuragical site of II millennium BC and among the best preserved in Sardinia. Visit of the site then return by minibus to Dorgali. Dinner and overnight stay at the hotel*** in Dorgali. Meals (B/L/D)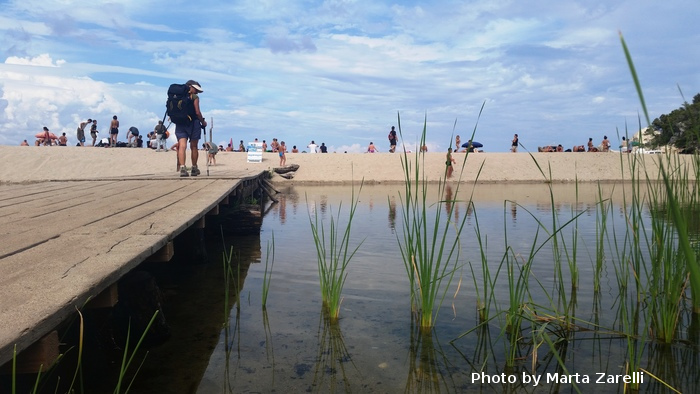 Day 4:
Cala Luna (3h30 walking, +190m -190m)

Today you will discover the northern part of the coast of the Gulf of Orosei, a 40 km long gulf with high cliffs overlooking the sea, caves and beautiful beaches. Morning transfer to Cala Gonone town, starting point of our hike. Our coastal walk takes us to Cala Luna, considered one of the most beautiful beaches of the Mediterranean sea. This beach can be reached only on foot or by boat. On our way we will meet the surprising "Grotte del Bue Marino" overhanging the sea. Having arrived at Cala Luna, free time for a swim in the crystal clear waters. In the afternoon return by boat to Cala Gonone *. Public bus to Dorgali. Dinner and overnight stay at the hotel.
Meals (B/L/D) * subject to weather conditions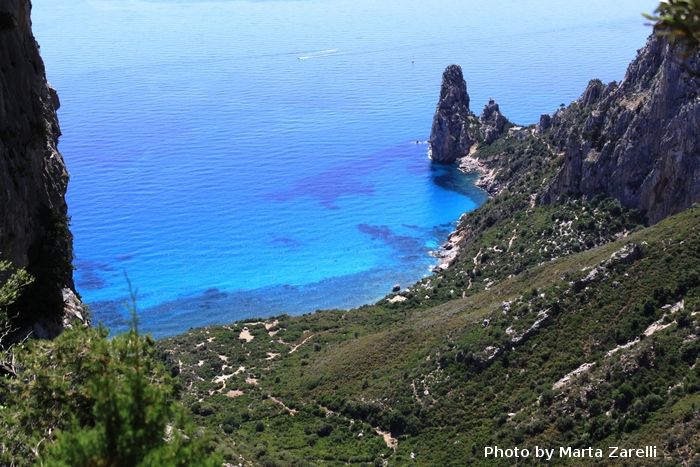 Day 5:
Pedra Longa (5h walking, +460m -1020m)

Morning transfer to the southern part of the Gulf of Orosei (about 1h15 ride). After a very scenic mountain road we arrive on the plateau of Golgo, fascinating and full of pastures where it is not unusual to see one of the famous Sardinian wild pigs or free herds of goats. Hike through mule trails commonly inhabited by shepherds and full of "Cuili" typical shepherd shelters made with juniper wood. Very scenic ride on a trail that descends towards the sea and heading to Santa Maria Navarrese, beautiful seaside village where you will stay overnight for two days. Check in at your hotel, dinner and overnight stay in Santa Maria Navarrese. Meals (B/L/D)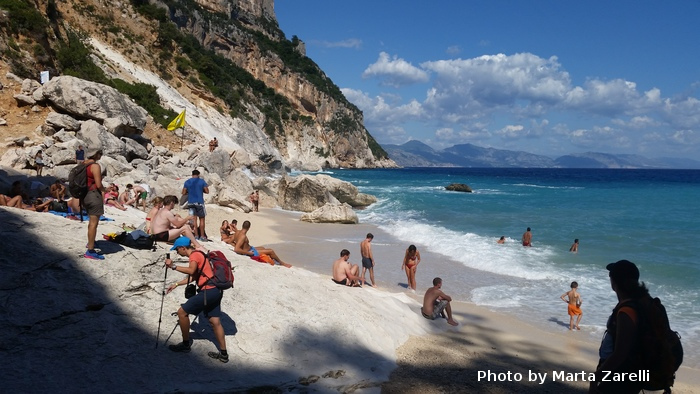 Day 6:
Cala Goloritze (4h30 walking, +550m -800m)

Transfer to Golgo plateau (approx 30 min. Ride) and start of our walk along a track in a shady wood that will take us next to some ancient nuragical ruins. Before we begin our descent to the sea, stop to enjoy the breathtaking view from the Punta Salinas, rock overlooking the sea that dominates almost the entire Gulf of Orosei. Descent to the breathtaking Cala Goloritzè undoubtedly one of the best Italian beaches and the most beautiful in this part of Sardinia. Free time for a well deserved dive into the turquoise sea of this corner of paradise, then return by boat to Santa Maria Navarrese *. Dinner and overnight stay at the hotel. Meals (B/L/D) * subject to weather conditions

Day 7:
Cagliari
Free morning to enjoy the sea or a boat trip to visit the famous Grotta del Fico, a huge cave accessible only from the sea and sheltered by a colony of monk seals. In the late morning transfer to Cagliari, the capital city of the region. Check in at your hotel and walk to discover the capital of Sardinia, very elegant and full of history, one of the oldest cities in Italy. Dinner not included and overnight stay at hotel*** in Cagliari. Meals (B/L/-)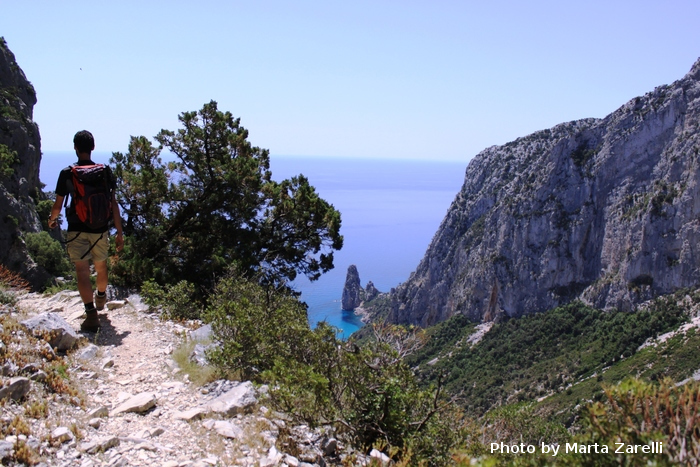 Day 8 : After breakfast transfer by bus to the airport - about 2h. Meals (B/-/-)
Note: B (Breakfast); L(Lunch); D (Diner)






Grade : moderate, 4 to 6 hours walking each day. An hilly-to-steep terrain whit large dirt road, mule track and wooden path. A prior hiking experience is recommended.

Accommodation :
- 3 nights in hotel***in Dorgali
- 2 nights in hotel***in Santa Maria Navarrese
- 2 nights in hotel***/B&B in Cagliari

Equipment :
trekking shoes, trekking socks, trekking t-shirt, warm shell, wind and water proof jacket, hat and gloves, bathing suit, sun glasses and sun cream, daily backpack (min. 30 liters), trekking poles advised.

Getting there : The destination airport is Cagliari. We will set a meeting time with the guide at Cagliari airport for the transfers on day 1. For clients arriving not at the set meeting time, we cannot guarantee a transfer. In this instance clients have to make their own way to the first hotel, at their own expenses (taxi cost about 20€ from Cagliari airport to the hotel). Transfer to the airport at the end of the trip is guaranteed by public bus from Cagliari hotel.
Supplements price per person
Departures on June 30 €
Single Room Supplement 160 €


Included:
- All transfers by public bus and private minibuses
- 7 nights' accommodation in hotel*** and B&B on half board basis
- English speaking guide
- Tourist taxes
- Entrance fees to Gorges of Gorroppu on day 1 and to the Tiscali archaeological site
- Entrance fee and guided visit to Serra Orrius archaeological park on day 3
- Boat excursion to the Grotta del fico on day 7
Not included:
- All beverages
- Flights
- lunches on day 1 and day 8
- Dinner on day 7
- Personal insurances