Active volcanoes, dramatic cliffs and winding coastline
This week long trip offers the opportunity to explore the dramatic volcanic landscapes of Sicily's Aeolian Islands and Mt Etna. The seven islands that make up the archipelago are named as UNESCO World heritage sites and you can see why: Black sand beaches, thermal springs and active volcanoes. On Sicily mainland you trek on Mount Etna (3350m), the highest active volcano in Europe with its diverse landscape. Lava flows and vast plains of black sand at the summit contrast with the green and fertile lower slopes.
Highlights:
- Mt Etna: Europe's highest active volcano
- The continuous volcanic activity of Stromboli
- History, culture, volcanoes and Italian dolce vita in one week
Daily itinerary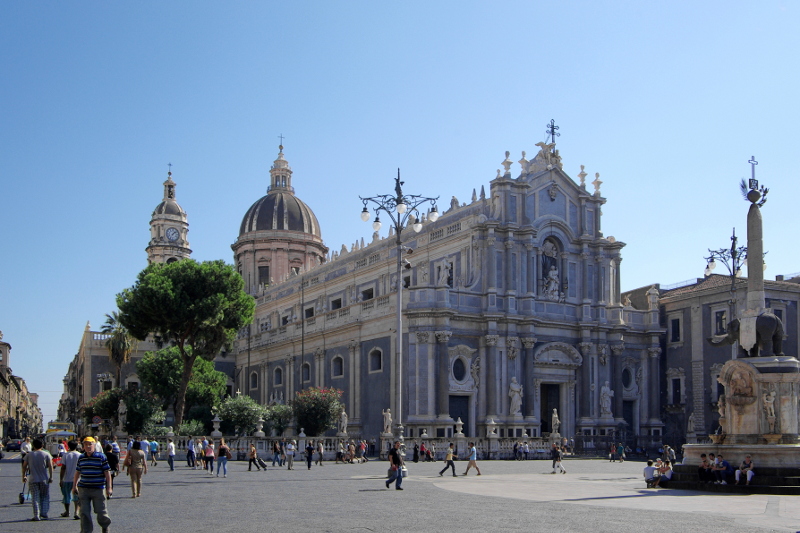 Day 1: Catania
Individual arrival in Catania and private transfer to Milazzo hotel (2h). Overnight stay in hotel*** in Milazzo.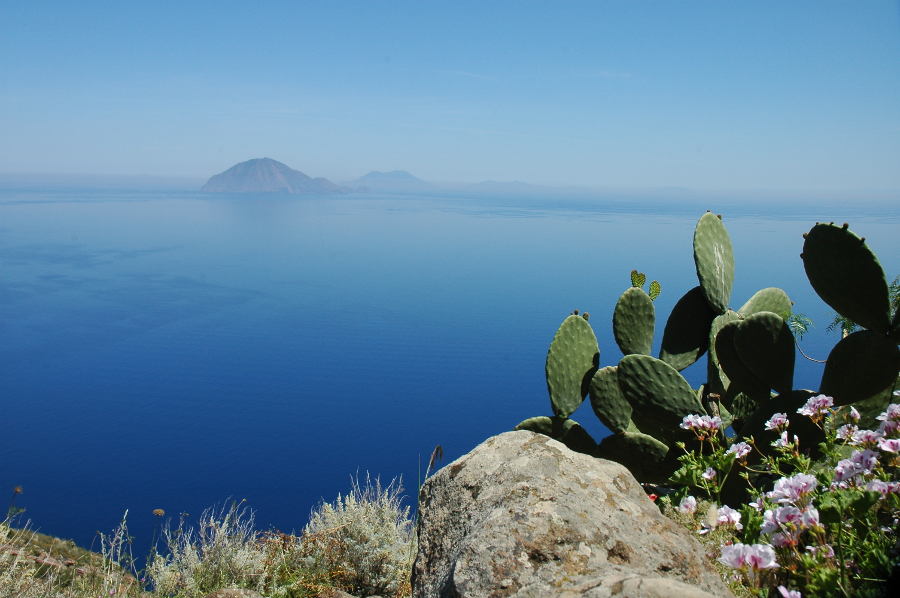 Day 2: Lipari (4 hours hiking, + 200m – 200 m)
After breakfast, take an hydrofoil to Lipari (1 h). Check-in at the charming hotel near the small harbour of "Marina Corta". First hike on the southern tip of Lipari, with great views of Volcano Island. Overnight stay in hotel*** in Lipari. Meals ( B)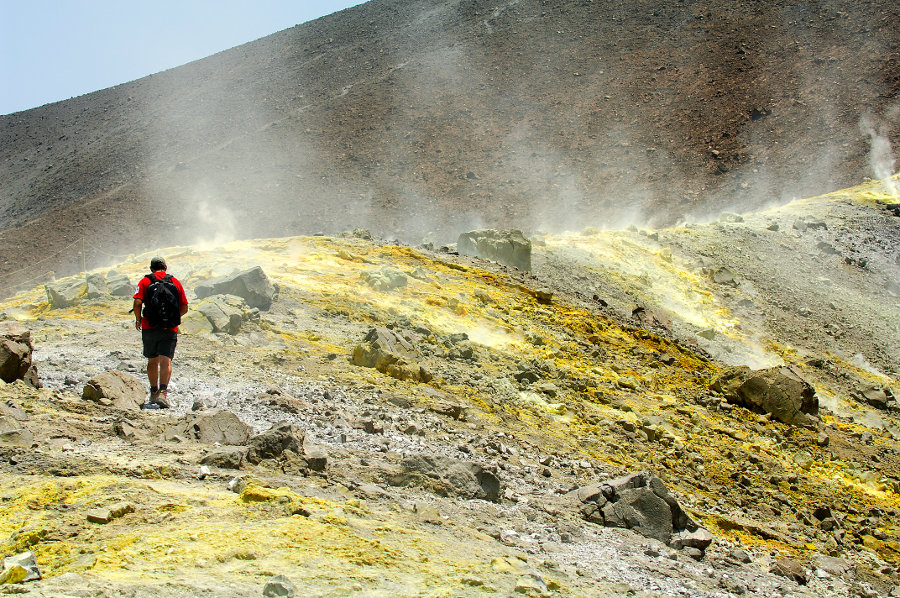 Day 3: Vulcano (3 hours hiking, +390 - 390 mt.)
After breakfast, hydrofoil to Vulcano (10 min.). Excursion to Vulcano's crater to enjoy an exceptional views of the whole island and the volcanic archipelago. At the end of the walk, free time for the beach thermal mud baths. Hydrofoil back to Lipari and overnight stay in Lipari. Meals ( B)

Day 4: Lipari – Stromboli (4 h hiking, + 400 – 400 mt.)
In the morning hydrofoil to Stromboli (1 h). Check in at the hotel and time to relax. In the late afternoon hike to the "Sciara del Fuoco" where we can have a first approach to the activity of the Stromboli with a wonderful view on the craters. Overnight stay in hotel*** at Stromboli. Meals ( B)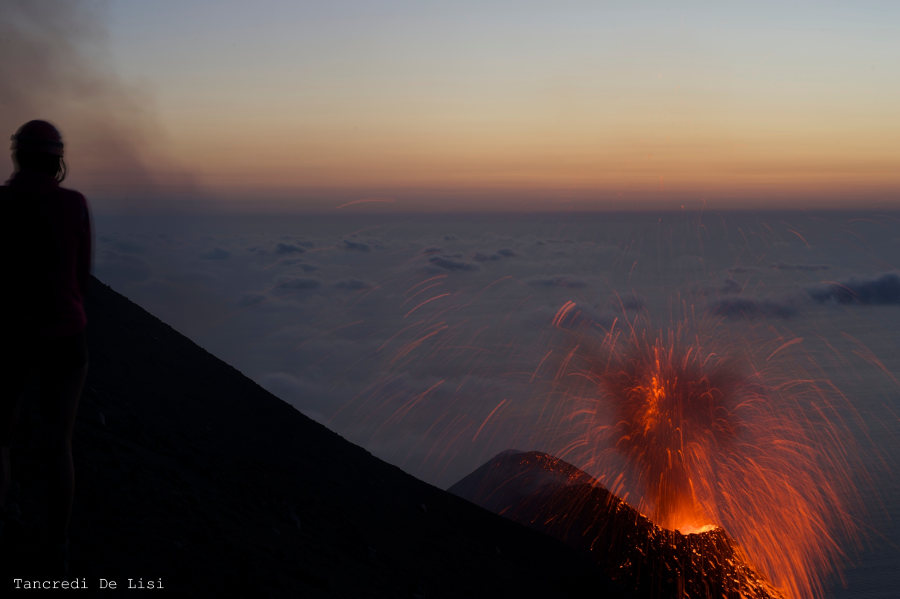 Day 5: Stromboli (5 hours hiking, + 924 – 924 mt.)
In the morning free time to visit the lovely village of "San Vincenzo" or enjoy the black beaches . In the afternoon guided excursion to the top of Mount Stromboli with a volcanologist guide. You will get a really close up view of the volcanic eruptions. Overnight stay in Stromboli. Meals ( B)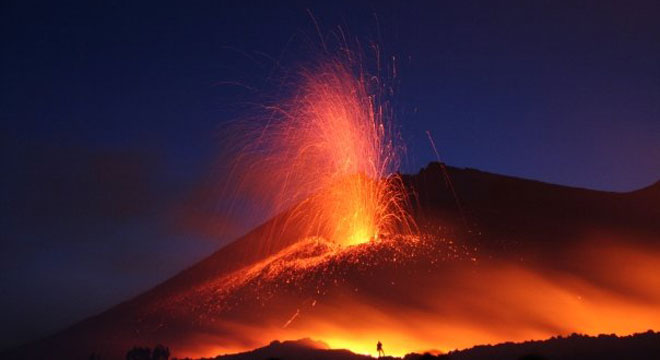 Day 6: Etna (1h30 hiking, +100 -100 mt.)
In late morning hydrofoil from Stromboli to Milazzo (2 h). Private transfer from Milazzo harbour to the southern side of Mt Etna. You have time for a short walk around "crateri Silvestri" before having dinner. Overnight stay in hotel*** . Meals ( B-D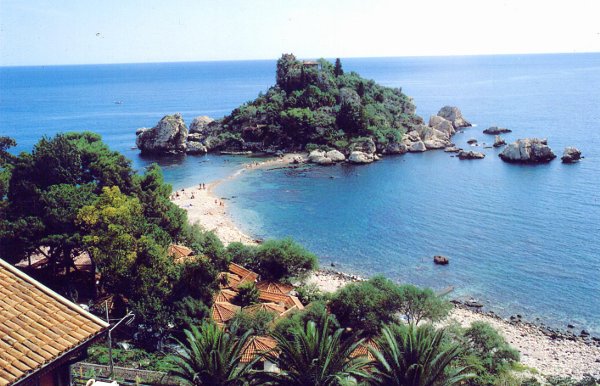 Day 7: Etna – Taormina (6 hours hiking, + 1000 – 1000 mt.)
Today you can enjoy a beautiful excursion until 2900 mt. We'll discover the line of big craters opened during the 2002/03 eruption. Amazing view on the Ionian coast of Sicily. In the afternoon , private transfer to the elegant town of Taormina where you have time to visit its innumerable ancient monuments including the amphitheatre. Overnight stay in Taormina. Meals ( B)
*Option:
according to the weather condition and volcano activity it's possible to climb till the summit at the central craters (3350 mt), guided by a mountain escort with cable way and 4WD vehicle till 2900 mt. then trek to the top. From there we walk back to our hotel (price 75 euros per person).

Day 8: Departure
Private transfer to Catania airport. Meals ( B)
Note:
B (Breakfast); L(lunch); D (dinner)
Accommodation :
- 1 night in hotel*** in Milazzo
- 2 nights in hotel*** in Lipari with 2 dinners included
- 2 nights in hotel** in Stromboli
- 1 nights in hotel*** on the Etna with dinner included
- 1 night in Hotel*** in Taormina
Services Included:
- Transfer from Catania to Milazzo hotel (day 1)
- Transfer from Milazzo harbour to Mt Etna (day 6)
- Transfer from Mt Etna to Hotel in Taormina (day 7)
- Transfer from Taormina to Catania airport (day 8)
- Accommodation as described in the program, with breakfast included
- 1 dinner on day 6
- Guided excursion in Stromboli
- Maps, road book and assistance in case of emergency
Not included:
- Hydrofoils between the islands
- lunches
- Drinks
- Dinners not included in the program
- Option for Etna Summit craters, guide + cable way + jeeps (75 € per person)
- Hotel tourist taxes
- Everything not specified under the heading "included"