Italy's wine capital & timeless villages framed by the Alps
Discover the landscapes of the Langhe region of northern Italy set between the Alps and the Apennine mountains, famous from the rolling vineyards and the Barolo wine. This land is blessed with rich and fertile lands that produce extraordinary specialties included gourmet cheeses, delicious pastries and hazelnut chocolates. As you walk amongst vineyards between picturesque medieval villages , elegant castles and feudal towers. You will have plenty of opportunity to enjoy the food and wine of the area.
Highlights:- Wonderful walks through vineyards and hazelnut forests.
- Taste the rich regional gastronomy
- Tiny lovely villages with welcome local people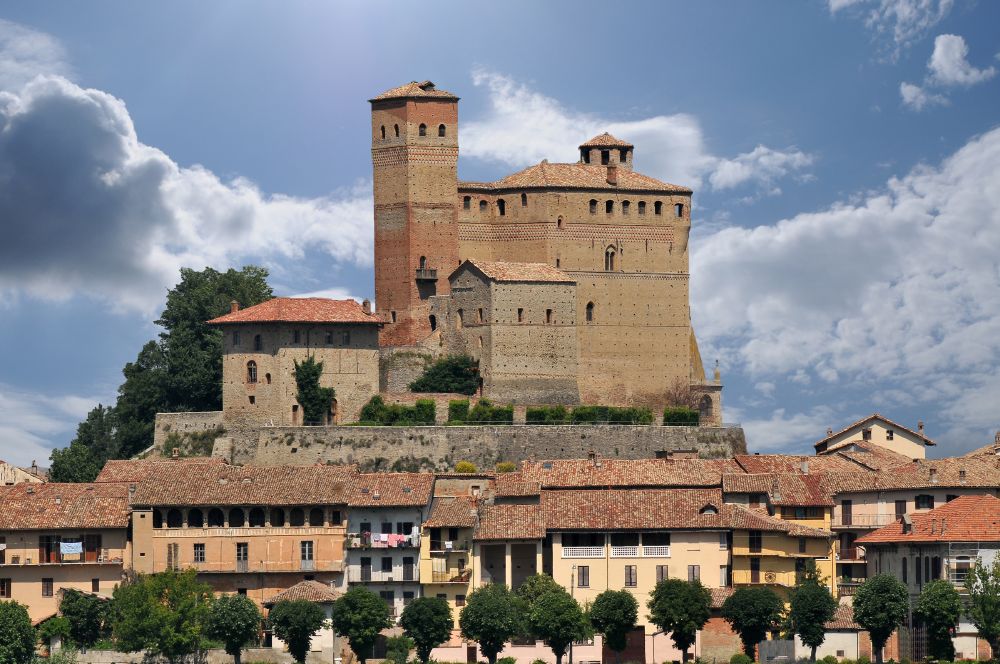 Day 1: Alba
There are few more enticing destinations for gourmet travelers than Alba, a picturesque town in the heart of Piedmont that's renowned world-wide for its succulent white truffles, velvety red Barolo and Barbaresco wines and wonderful fruit. Let your nose carry you through town to the traditional and simple, wonderful restaurants, shops and bars that seem to be dotted along every cobblestone street. Dinner and overnight stay in hotel*** in Alba. Meals (-/-/D)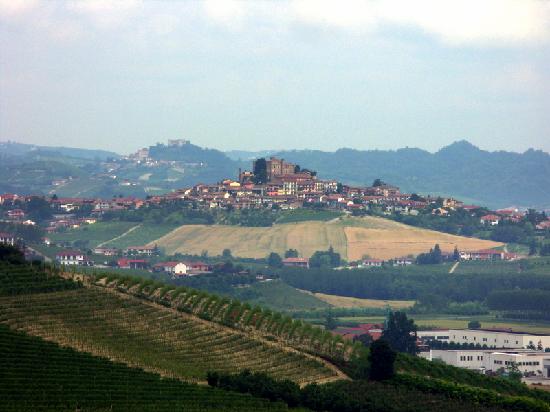 Day 2:
Neive – Barbaresco – Neive (
13 km – 4 hrs)
Public bus from Alba to Neive, one of the most beautiful town in Italy. We follow the famous Barbaresco wine route , the second great appellation of the Langhe, hiking through some of the most beautiful countryside this land has to offer. Once in Barbaresco, light lunch and wine tasting in a local winery. We proceed along the Tanaro valley back to Neive. Bus to Alba and overnight stay. Meals (B/L/-)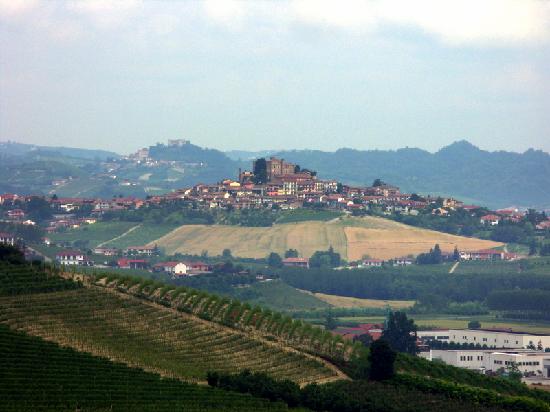 Day 3:
Grinzane Cavour – la Morra - Barolo
(17 km, 5.5 hrs)
After breakfast private transfer to the magnificent Castle of Grinzane Cavour that now houses the "Cavour" Regional Enoteca. The walk starts crossing several hills where you reach the rustic village of La Morra , the " Balcony of the Langhe". From where you continue to the hamlet of Vergne. Visit of a local winery before reaching the famous village of Barolo. Overnight stay in hotel*** in Barolo. Meals (B/L/-)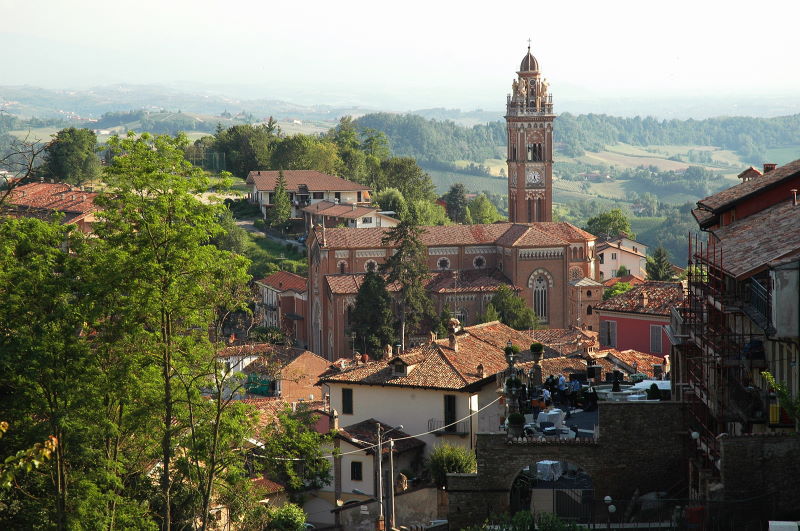 Day 4:
Barolo - Castiglione Falletto
( 4 km - 1.5 hrs)
After breakfast a soft hike will take you to the quite village of Castiglione Falletto. Private transfer to a local Agriturismo where you will enjoy a cooking class! Once back in Barolo, time to visit the famous Wine Museum and the Regional Enoteca. Dinner and overnight stay in Barolo. Meal (B/L/D)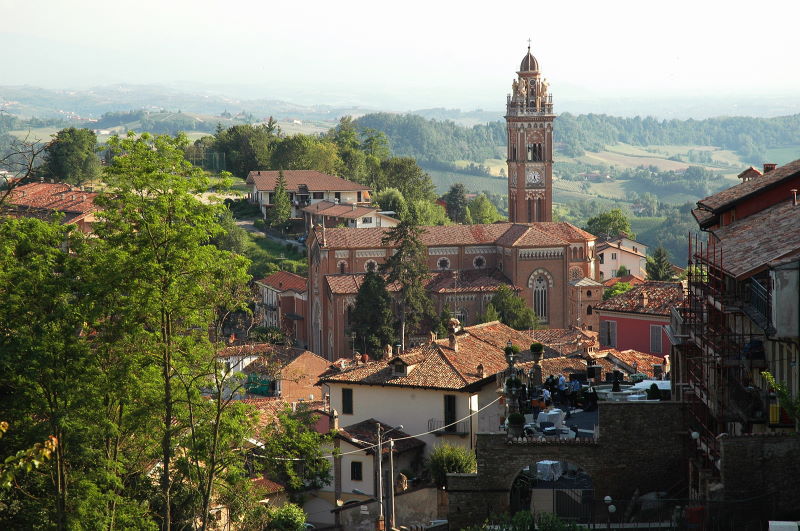 Day 5:
Barolo – Novello - Monforte d'Alba
( 9 km – 2.5 hrs)
From Barolo descending gently to Talloria Valley we will reach Novello, a belvedere town before continuing through panoramic fields which offers views into the two neighboring valleys. The hike will end in the beautiful and elegant town of Monforte. Visit a local winery and lunch. Free time in the afternoon to relax and discover this lovely little village. Dinner and overnight stay in hotel in Monforte d'Alba. Meals (B/L/D)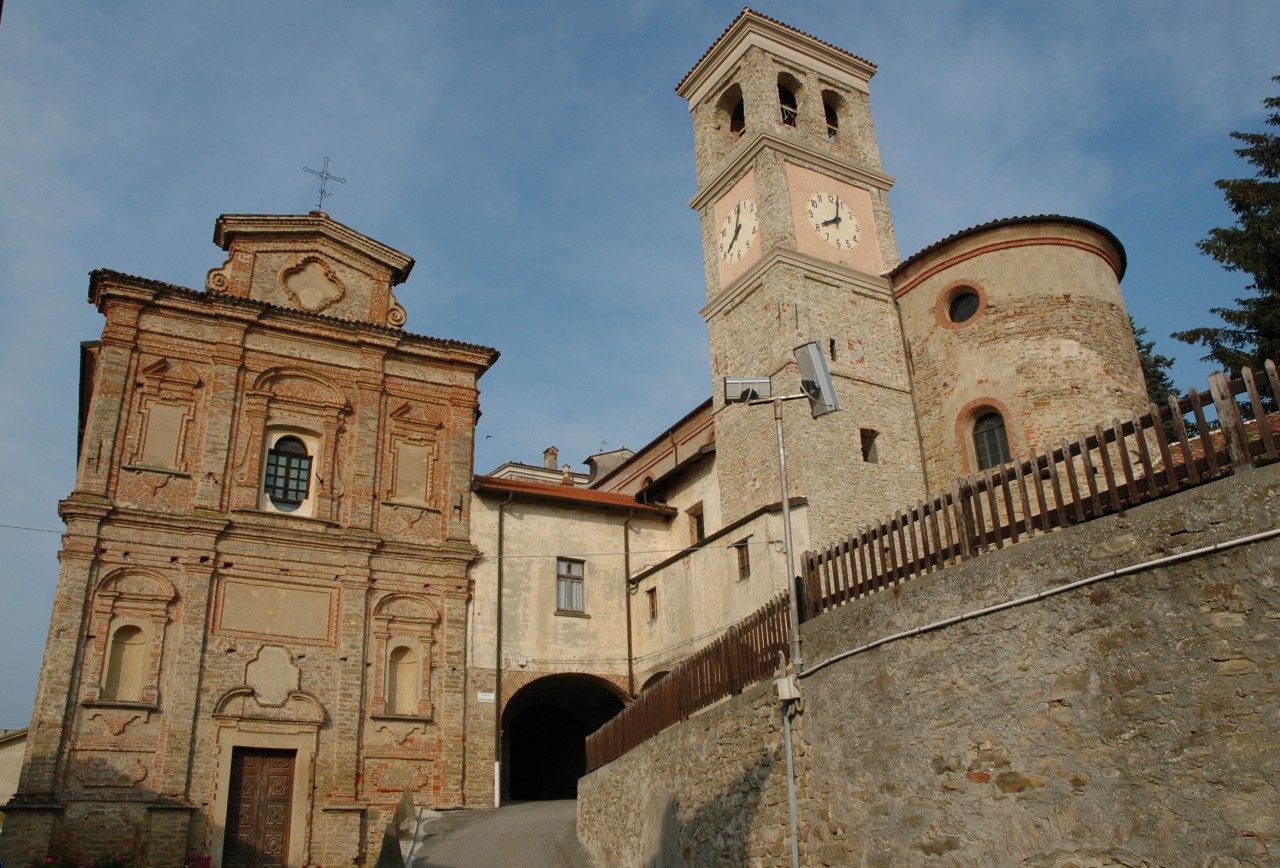 Day 6:
Monforte d'alba – Serralunga Monforte – Monforte
( 18 km – 5 hrs)
A lovely hike will lead to Serralunga, the place which offers its visitors a unique view on the first Alta Langa (high Langa) hills. Sera Longa, whose name evokes its peculiar stretched position over the hill, is a typical Medieval village embracing its 14th-century castle. Lunch in a typical trattoria and cheese tasting before coming back to Monforte. The walk proceeds to Sinio, a tiny Medieval rural village. Cross hazelnut woods to Roddino, and then to walk among woods and vineyards to the valley floor. Then Back to Monforte. Meals (B/L/-)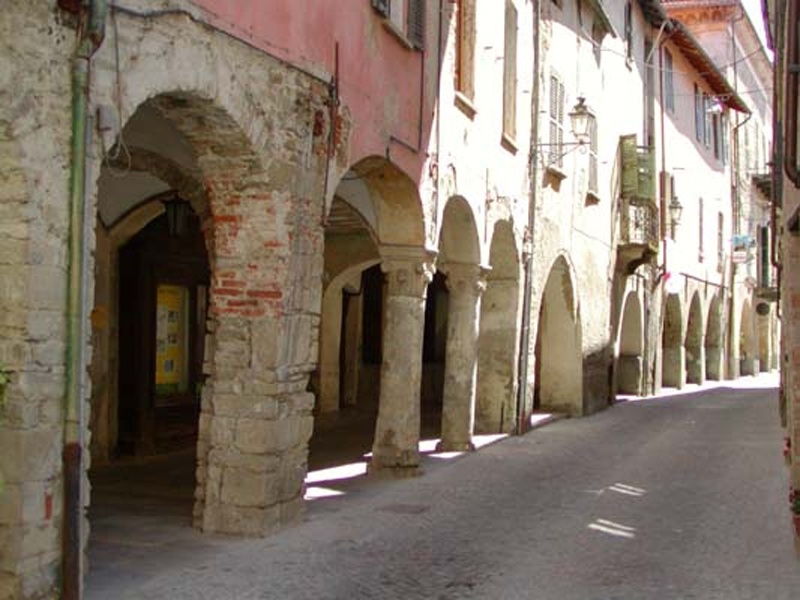 Day 7: Turin
After breakfast private transfer to Turin. A day to discover this elegant and vibrant city, rich in history and culture with beautiful squares, baroque palaces and shopping streets. Dinner and overnight stay in hotel in Turin. Meals (B/-/D)

Day 8: Departure
After breakfast, individual transfer to Turin airport. Meals (B/-/D)
Note:
B (Breakfast); L(lunch); D (dinner)
Grade:
Moderate. Suitable for reasonably fit people and regular hill walkers, these trips includes walking days on paths and tracks. Previous experience of trekking is preferred whilst walking days are between 4 and 5 hours.
Accommodation :
- 2 night in hotel in Alba
- 2 nights in hotel in Barolo
- 2 nights in hotel in Monforte d'Alba
- 1 night in hotel in Torino
Equipment:
trekking shoes, trekking socks, trekking t-shirt, warm shell, wind and water proof jacket, daily backpack (min. 30 litres), trekking poles advised.
Getting there:
The destination airport is Turin. The easiest way to reach Alba is by train. From Turin airport you can catch the SADEM bus service between the Airport and the station of Turin Porta Nuova. From here, there are several trains direct to Alba train station (1 hour and 30 minutes) .
Supplement
Price per person
Extra night in hotel*** in Turin double/single room 55€/80€
Single Room Supplement 150 €
Private transfer from Turin hotel to airport 50€
Included:
- 7 nights in accommodation as described in the program, with breakfast
- dinners days 1-4-5-7
- Wine tasting and light lunch( days 2- 3-5)
- Luggage transfer from day 2 to day 7
- Public bus from Alba to Neive and return day 2
- Private transfer from Alba to Grinzane Cavour day 3
- Private transfer from Castiglione to La Morra day 4
- Private transfer from Monforte d'Alba to Turin day 7
- Lunches
- Cooking class on day 4
- Entrance ticket Wine Museum Barolo day 4
- English speaking guide during the whole tour
- Tourist taxes (about 1,5 € per day)
Not included:
- lunches days 1-7
- Beverages
- dinners not included in the program ( days 2-3-6)
- Museum and Monuments entrance fees
- Transfers to the first hotel in Alba ( day 1)
- Transfer to Turin airport/train station ( day 8)