A journey in the spur of the Italian boot. Puglia is a concentration of history, culture, good food and beautiful landscapes. Having always been a mandatory passage to and from the east, this region has kept the heritage of all people, religions, and languages that ​​over the centuries have dominated this very long and narrow strip of land. The trip we propose will reveal to you the secrets of Salento, Puglia's most southern part. This land which has been inhabited for thousands years, is covered by immense stretches of ancient olive groves and dozens of art cities, including some listed in the Unesco heritage register. During our journey we will visit Matera's Sassi district, The magical old town of Ostuni, in the famous Trulli area of Alberobello, and the baroque center of Lecce.
Highlights- Ostuni and its bright white limestone historical centre
- Unesco heritage cities: Alberobello, the "Trulli" enchanting city, and Matera, built on a bare carved rock
- Lecce, baroque capital of the south of Italy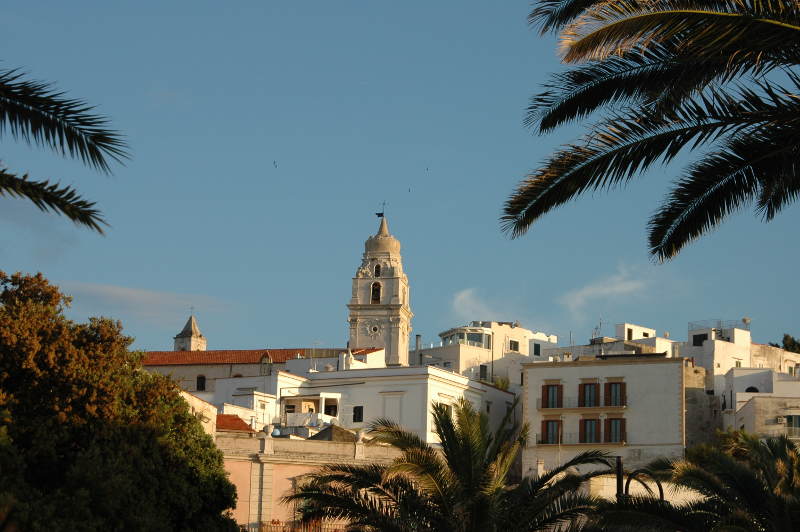 Day 1: Arrival
Arrival at Brindisi airport. Private Transfer to your accommodation, an hystorical "masseria" located in the heart of Salento. Check in and briefing with your guide regards your tour. Dinner and overnight stay. Meal (/-/-/D)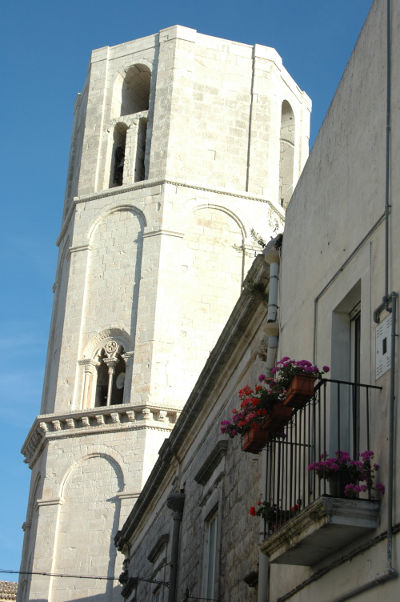 Day 2:
Otranto
After breakfast, enjoy your fist cooking class learning the first secrets of the delicious and genuine local cuisine! After lunch, private transfer to Otranto the Italy's easternmost city. The historic center is a UNESCO World Heritage Site, and the group will explore the winding streets and seaside promenade, famous for the beautiful Castel and the the Cathedral. Dinner and Overnight stay at Masseria. Meal (B/L/D)

Day 3:
Lecce
After breakfast, private transfer to Lecce. Meeting with a licensed guide and visit of this amazing city, also known as the "Florence of the south", admiring the dazzling detail of the baroque architecture. We will have some free time for shopping and lunch. In the afternoon, a walk walk among centuries-old olive trees and a tour to visit an onsite frantoio to learn about the processes of making premium olive oil. A tasting will follow. Dinner in restaurant and overnight stay in Masseria . Meals (B/-/D)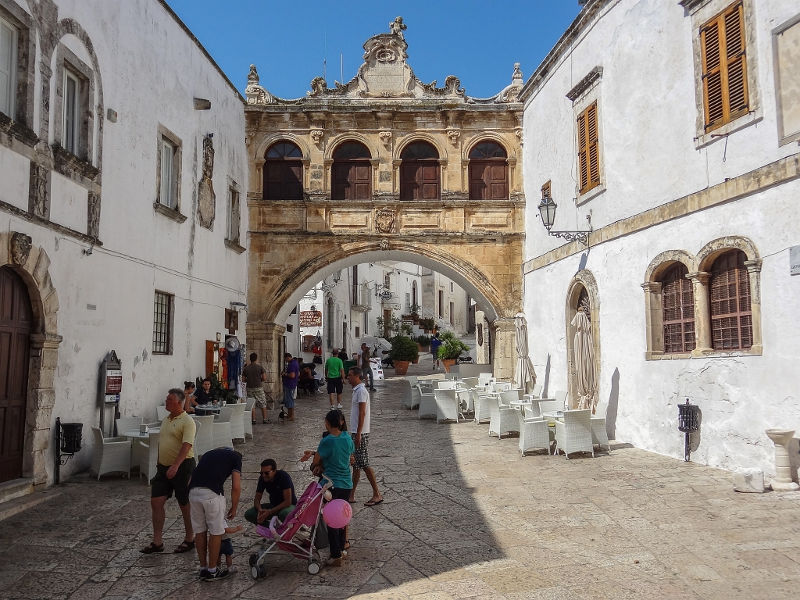 Day 4:
Gallipoli
Today it is time to enjoy one of the most famous Italian wine: "Negroamaro". Private transfer to a famous local wine estate. We will have a walk through the vineyards and tour the cantina and an explanation of wine making before you taste the unique wines served with a light lunch. In the afternoon our tour proceeds to lovely fishermen town of Gallipoli. Relax and enjoy a walk through the fortified center. Back to the Masseria, dinner and overnight stay. Meals (B/L/D)

Day 5:
Ostuni and Alberobello
In the morning private transfer to Ostuni, known also as the "White City". Here you will enjoy your second cooking class and learn how to prepare local bread and focaccia and how to dose ingredients in order to make "orecchiette", homemade ear-shaped pasta typical of our region. After lunch, transfer to Alberobello and visit the UNESCO World Heritage Site of the Zona dei Trulli, these little whitewashed houses with conical roofs are unique to Puglia. In the afternoon free time to visit Alberobello and its "historical centre". Overnight stay in Alberobello. Meals (B/L/D)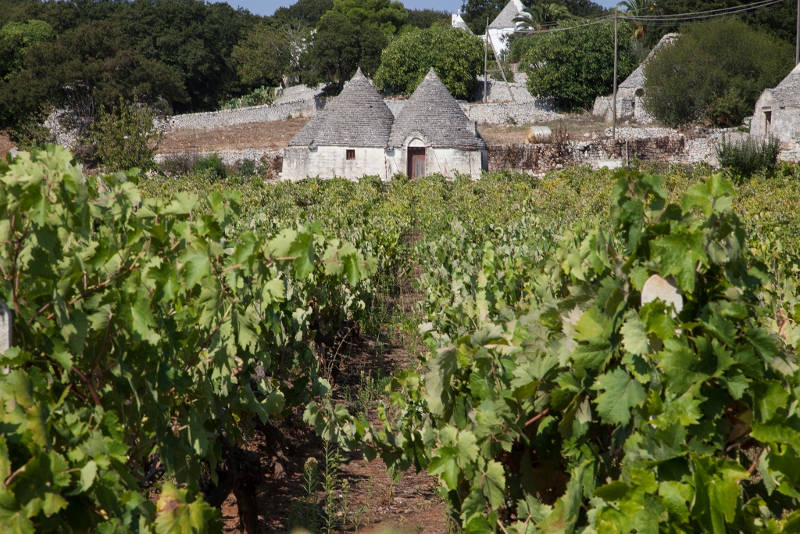 Day 6:
Valle d'Itria
Today we will visit Valle d'Itria, one of Puglia's most popular and attractive areas, the Valle d'Itria. First stop in the lovely town of Gioia del Cole famous for the cheese production. Visit a local cheese factory with a taste of the delicious mozzarella! Transfer to an old manor farm in the rural area near Gioia, where the owners work to increase the reputation of "Primitivo", a native grape used for the production of quality wines in his area. Enjoy a wine tasting in the garden. On the way back to Alberobello, stop in Locorotondo , one of Puglia's prettiest towns with a proudly conserved, easily-walkable center and a calm, laid-back atmosphere. Back to your accommodation, dinner and overnight stay. Meals (B/L/D)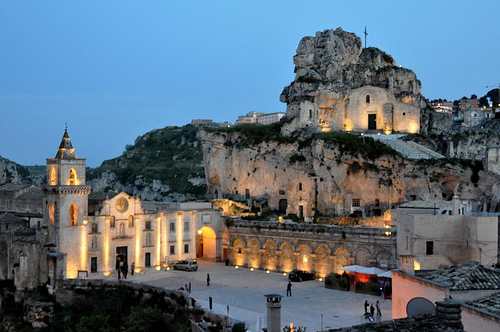 Day 7: Matera and Bari
In the morning transfer to Matera, one of the most beautiful italian city. A local guide will unveil the secrets of the city and the "Sassi", Matera's stunning neighborhoods listed in the Unesco register. It is a system made of dwellings carved out of the steep slopes of a deep valley with surprising and unusual features called the "Gravina". After the visit, enjoy a tasting of some local specialties. In the afternoon transfer to Bari. Check in at the hotel in the center of the city and time to discover the oldest neighborhood called "Bari Vecchia". Dinner and overnight stay. Meals (B/L/D)

Day 8: Departure
After breakfast, individual transfer to Bari airport. Meals (B/-/-)
Note: B (Breakfast); L (Lunch); D (Dinner)
Grade:
easy. Suitable for most people in good health and generally fit, these trips include short walking days, predominantly on good paths and at low altitude. No trekking experience is required.
Accommodation:
- 4 nights in typical Masseria near Lecce
- 2 nights in typical Masseria near Alberobello
- 1 nights in hotel*** in Bari
Equipment:
trekking shoes, trekking socks, t-shirt, wind and water proof jacket, hat, bathing suit, sun glasses and sun cream, daily backpack (min. 30 litres).
Getting there:
the destination airport is Brindisi. We will set a meeting time with the guide at the airport for the transfers on day 1. For clients arriving not at the set meeting time, we cannot guarantee a transfer. In this instance clients have to make their own way to the first hotel at their own expenses.
Supplements:
Single room € 140
Included:
- All transfers with private minibuses
- 7 nights' accommodation with breakfast included
- All dinners included
- Guided visit of Lecce on day 3
- 2 wine tasting with light lunches( days 4-6)
- Olive oil tasting day 3
- 2 cooking class on days 2-5
- Guided visit to Sassi district in Matera + local products tasting (day 7)
- Lunches except on days 3-7
- English speaking guide
Not included:
- All beverages
- Lunches on day 1-3-7 and day 8
- Tourist taxes
- Transfer to Bari/Brindisi airport on day 8
- Personal insurances
- Mon